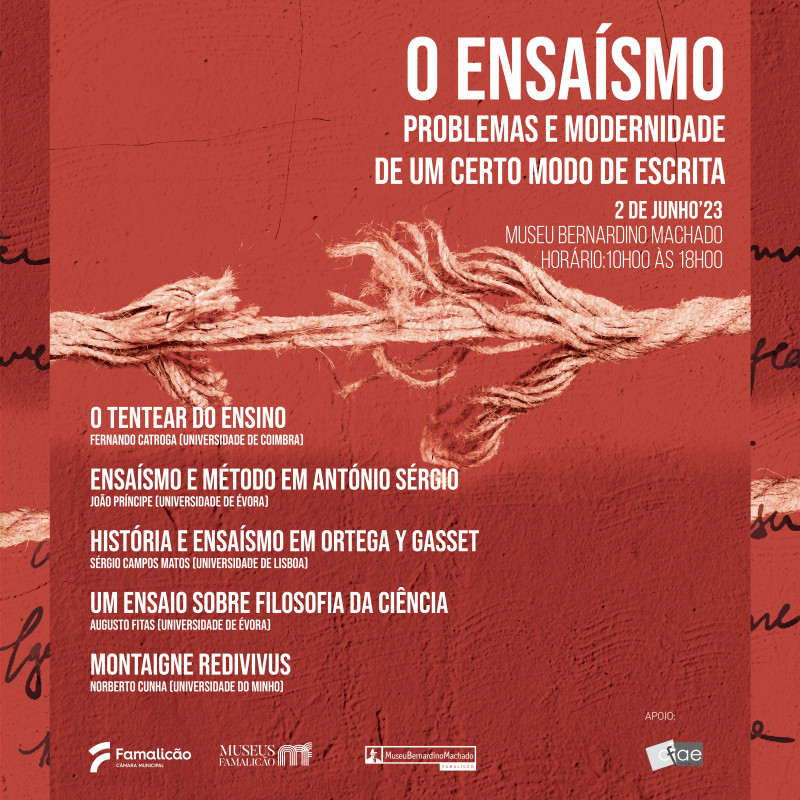 Today
Museu Bernardino Machado promotes conference on Essayism
26-05-2023
"The Essayism: Problems and Modernity of a certain way of writing" will be the starting theme of the Essays Journeys, an event that is on its first edition. Organized by Bernardino Machado Museum, the initiative will take place on June 2, at 10 a.m., with free admission.
The conference will count with the presence of Fernando Catroga, from the University of Coimbra, who will speak about 'The Trying of Teaching'; João Príncipe, from the University of Évora, with 'Essays and Method in António Sérgio'; Sérgio Campos Matos, from the University of Lisbon, with 'History and Essays in Ortega y Gasset'; Augusto Fitas from the University of Évora, with 'Um Ensaio Sobre Filosofia da Ciência'; and the scientific coordinator of the museum dedicated to the former President of the Republic, Norberto Cunha, from the University of Minho, with 'Montaigne Redivivivus'.
This scientific event is accredited for teachers of the subject groups 200, 400, 410 and 420. Enrolments should be made at the Training Centre of the Vila Nova de Famalicão Schools Association (CFAE V.N. Famalicão).
Learn more about the essay days at Museu Bernardino Machado
here
.
1175 readings