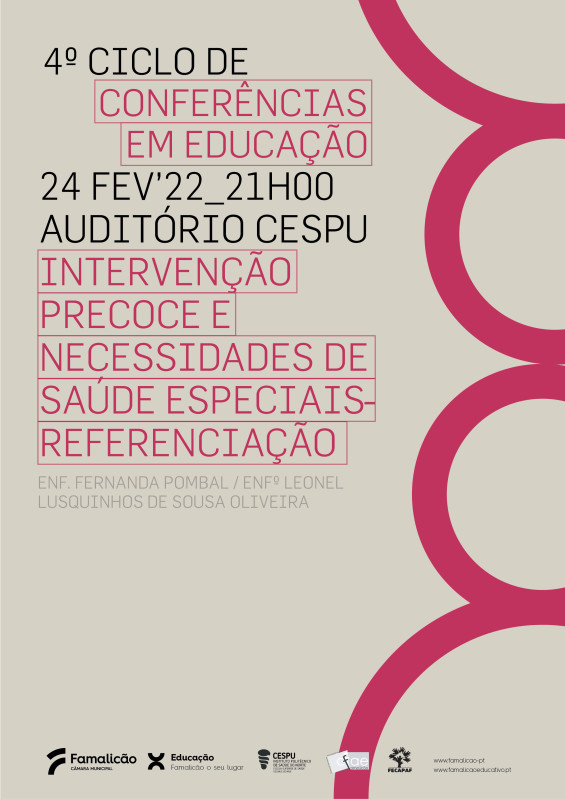 Education
"Early intervention and special health needs: the referencing" is the theme of the next Education conference
14-02-2022
It is already on the next February 24th, at 21h00, that the second meeting of the 4th cycle of conferences in Education will take place, this time dedicated to the theme "Early intervention and special health needs: the referencing" with Nurse Fernanda Pombal and Nurse Leonel Lusquinhos de Sousa Oliveira. The initiative will take place in the auditorium of CESPU. Registration can be made through the Education Portal at http://www.famalicaoeducativo.pt/.

It is worth mentioning that this initiative is promoted in partnership between the Town Council, the Famalicão Federation of Parents' Associations, the Cooperative of Polytechnic and University Higher Education, CRL (CESPU) and the Training Centre of School Association of Vila Nova de Famalicão.

In all, nine conferences will be held until the end of the year. For those who wish accreditation, there are 3 short duration actions (6 hours) organised per quarter. In the 1st quarter (6 hours) the themes are organised around "Mental Health and Family", in the 2nd quarter (6 hours) the theme will be "Playing with educational intentionality", in the 3rd quarter (6 hours) the selected themes follow the theme "Inclusion and Primary Care".

3525 readings